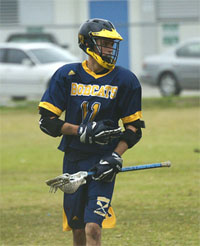 Dylan Polacek - i2P Youth Ambassador
I am a junior at Boca Raton High School. I am in my second year of Marine Science and have taken classes from Environmental Science to Physics and Chemistry. I am on the Lacrosse and Cross Country teams at my school. I have three sisters and two dogs, and I maintain a saltwater aquarium in my room. I have lived in Florida all my life and always within a few miles of the ocean. Therefore, most of my interests center around the water. I am a certified scuba diver, love to fish and love roller coasters.

My love for adventure and science is exactly why I filled out the application for the Antarctic Expedition. I have never seen snow, so this expedition will be quite the adventure. When I read more about the trip and what we will be doing, I immediately put all my efforts into obtaining this scholarship. When I got a phone call after lacrosse practice one day saying I had been chosen, I could not believe my ears.

Since then, I have been researching and reading about the Antarctic and planning for the trip. Just recently, I got together what I need to wear. Because I have never been in snow before, I needed help preparing. I borrowed clothes from a friend and I bought a parka and boots. I also needed to buy long underwear, because I definitely was not planning on borrowing those. Although it is summer in Antarctica and the warmest temperatures are on the peninsula, it is still supposed to be between -10 and 10 degrees.

If given the opportunity to go on an expedition from Ushuaia, Argentina (the southernmost city in the world) through the rough seas of the Drake Passage, to the extreme continent of Antarctica, I doubt anyone would hesitate answering. The knowledge gained from this trip will be priceless. However, for me personally, the reason this expedition is so important is that this is what I want to do with my life. It is my dream to pursue environmental science as a career. This expedition will allow me to apply my passion and experience the beauty of Antarctica hands on. I am sure this expedition will be lifechanging for me and the others involved.