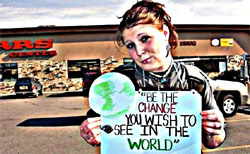 Lindsey Andersen - i2P Youth Ambassador
I am senior at Glenbrook North High School in Northbrook, Illinois. Ever since I was a little girl I have had a love for adventure and an unrelenting passion for the sciences. I live with my 3 dogs, my parents, and up until July of 2008, I had a 29 year old brother who I lost to a tragic accident. My brother was always the one who told me I could do anything if I worked hard, and I hold that close to my heart each and every day. My life revolves around my community service and volunteer work, music and research. If I could pay for it, I would honestly be a professional student for the rest of my life. Unfortunately, I do not think that will be possible so I am going for the next best thing: a biochemist.

I have interned at Fermilabs (particle accelerator laboratory in Batavia, IL) working on the tevatron (particle collider) and it was one of the best experiences of my life. Last year, I served as a chemistry teacher assistant. Obviously science is a huge part of my life, so you can imagine when the day before my 18th birthday I received a phone call saying I was accepted for the scholarship position, it was probably one of my most proud moments of my life. Ever since my parents and I have been getting ready for this amazing expedition, and quite honestly-- I talk about it to anyone that will listen. I have put many hours into studying in preparation for this trip so I can go in fully educated and ready to study the South Pole!

I applied for this extraordinary expedition with the hope of learning so I could make a difference in the natural world I love so much. Even with my obvious love for science, it is still incredibly important that I use my passion to help serve a larger purpose than just me as an individual. This voyage is an opportunity that few people could ever even dream of, and here I am--- preparing myself for the single most incredible experience of my life. It is my goal to help the natural world through my passion for science and going to Antarctica is the perfect opportunity to begin something that I plan to pursue for the rest of my life. I am 100% sure that myself, the other much-deserving scholarship candidate (Dylan Polacek) and the other individuals attending will be forever changed...for the better.