Sastrugi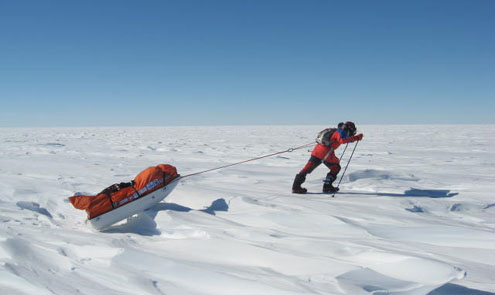 (Audio) Looking Good
Ray wanted me to thank Iridium and Rhodes communication for all their help. Their generous sponsorship has made all of these blogs and messages possible. Not to mention keeping the crew in touch with their loved ones. Many thanks. In case you haven't noticed if you select the live tracker and zoom in, all of their daily positions are plotted against the continent. Hercules inlet is the actual coastline though it's tough to tell because it's buried under so much ice and snow.
"
Hi all this is Kevin here, we just completed our march today and ahh managed fifteen point three nautical miles. Ummm we're very happy with that over the course of eight and a half hours. We are slowly building now and feeling strong. Lots of hill work today again and aahhh lots of snowdrifts that we had to negotiate but things are looking good, our sleds are still heavy so as time goes by the sleds will get lighter, we're going to get fitter and we're going to get faster. So ummm things are looking good, weather's good, not too cold, not too windy. Here's Ray
"
"
Hey guys it's Ray here from the south pole quest. As Jim (?) says another spectacular beautiful day on Antarctica. Just trekking and skiing, of course I'm still going, I'm committed now to keeping my showshoes in my sled for as long as I possibly can, just wearing my boots, but ahhh what an amazing day and and to do another fifteen point three nautical miles in aahhhum eight and a half hours trekking is fantastic. We're just getting our legs used to the miles. We're not pushing too hard, incidentally that's about twenty I think that's somewhere eight and twenty nine kilometers. Ahh so we're feeling really good and ummm keeping to our schedule, lots of surprises coming round the corner. Hope everyone's doing well and thanks for checking us out. OK Bye
"
Tuesday December 9 2008 :: posted by Anton Stranc