Sleeping Bags, Pemmican, and a Tent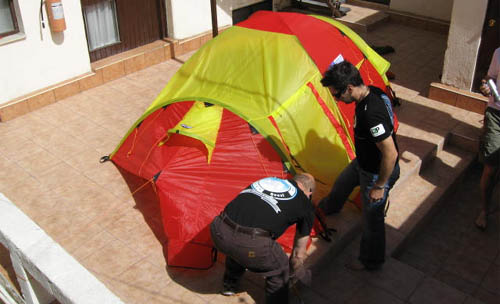 Today most time was spent going through our gear and weighing food. We tested out our tent by erecting it in the small courtyard in front of our apartment-and we made lists of everything that is still needed to round out our food for the expedition. A quick visit to a local hardware store yielded a small piece of plywood that will be the steady base for our stove, as well as metal clips we will use to secure guy lines to our tent for the 120 km/h plus winds !!!
Doc Affleck is busy putting finishing touches on some of the educational modules- and he has been helping us to organize our gear. The first "official" module will be posted the day we arrive on the ice.
(Audio) Getting ready to leave Punta Arenas, Chili.
Friday November 21 2008 :: posted by Ray Zahab