Another 19 miles, a special thank you, and a special congratulations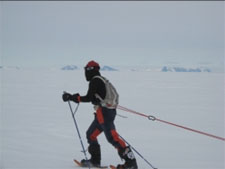 (Audio) Another 19 miles
"
Ummm This is Ray calling from the South Pole Quest Team. We had 19 more miles done today (nautical) which is something like I don't know in the high thirties of kilometers and so it was far.

Ummm our team Kevin, Richard and I want to extend a huge congratulations to Todd Carmichael; an American who had an expedition to the South Pole. He started a number of weeks before us ahhh... on a similar but probably slightly different route, I'm not exactly sure. But Ahhhh Todd had a bit of a rough start he started out on skis and then he ended up, I think his bindings broke and then he had to trek the rest of the way. Todd I totaly feel your pain because I've been trekking since the start. But ummm you made it to the South Pole I think it was in and around 39 days, we just heard from our team. So I wanted to congratulate him on just a spectacular effort and we've been rooting for him the entire time and we were so excited to hear that he made it. So again congratulations to American Todd Carmichael for making it to the South Pole.

Hear we are sitting in our tent and we're leaving a blog, and how are we doing it? We are doing it from our Iridium Sat phone. It's one of our methods of communications. Ahhumm we send the photos through our Iridium Sat phone as well ahhhumm using the ahhhh software using the contact software developed by Explorer's Web and so those two products together are how we're communicating with you guys. But a huge special thank you at this holiday time to Iridium for providing us with the best communication possible so that we can not only communicate to all you guys but speak with our families as well. It's very reliable as a matter of fact it's the only way to communicate from Antarctica ummm and around the world. So thank you so much to Iridium and while I'm on the topic, at this time of year (holidays), we wouldn't be here if it wasn't for all of our sponsors, so thank you to everybody who has helped out with this expedition. I hope you guys don't mind me taking the time to do this. I mean it's so important please check out our sponsor page because they are part of our team. Hope you're all having great set up for the holidays, it's december 23rd right now and I know we figure you dream of turkey, I am dreaming of turkey as well, I'm having pemmican and I'm pretending that it's turkey. Catch you later, Bye.
"
Wednesday December 24 2008 :: posted by Anton Stranc