Day 22 - another 18 miles and gear distribution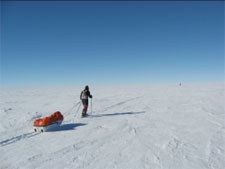 (Audio) Day 22
"
Hey everybody it's Ray calling from the South Pole Quest Team. Richard's cooking away and Kevin is right now prepping up to send a photo for this blog, so I'm leaving the blog today. Ahhummm... a lot of question always come up, they say an people ask us and and my family has asked.

Well you're on snowshoes, or you're in your boots, and the other two guys are skiing. How do you guys decide ummmm... who carries what in their sled?

And I thought it might be a great topic for today ahhh.. seeing as now everyone is probably re-distributing some weight after all of the holiday feasting and everything. Ahhhum.. actually the way it works is this. Richard and I carry all of the gear for the three team mates ................. carry our own compliment of food. Kevin has all the high tech equipment to not only make our own film, )because don't forget we're filiming this entire expedition), but our communication equipment and our solar stuff as well. So that's how gear is distributed between the sleds and they all pretty much weigh about the same, and that right now is way too heavy. so hope everybodies is doing well. I'm not sure if I mentioned it already 18 nautical miles today, on Boxing day, day 22, and we're at 86.24.7. We're getting there talk to you soon bye
"
Saturday December 27 2008 :: posted by Anton Stranc